Welcome to Qbik, the original home of WinGate software
Since 1995 Qbik has been developing sophisticated & user friendly software specialising in Internet connectivity and security. Our products allow users to manage their Internet connectivity (WinGate), connect remote offices together (WinGate VPN), and combat network security issues (NetPatrol).

WinGate Proxy Server
WinGate is a sophisticated integrated Internet gateway and communications server designed to meet the control, security and communications needs of today's Internet-connected businesses.WinGate's comprehensive range of license options provides you the flexibility to choose the features and capabilities that best match your needs and budget, whether you need to manage an enterprise, small business, or home network.
Key Functions
WinGate allows you to:
Provide secure and managed Internet access for your entire network via a single or multiple shared internet connections
Enforce advanced and flexible access-control and acceptable use policies
Monitor usage in real time, and maintain per-user and per-service audit logs.
Stop viruses, spam and inappropriate content from entering your network
Provide comprehensive internet and intranet email services.
Protect your servers from internal or external threats.
Improve network performance and responsiveness with web and DNS caching
Ease administration burdens on your internal networks.
Key Benefits
Using WinGate to actively manage the use of your Internet and network resources can provide many benefits, including:
Improved Employee productivity
Minimised time and resources required to maintain network integrity
Reduced Employer liabilities
Improved efficiency, responsiveness and reliability of network access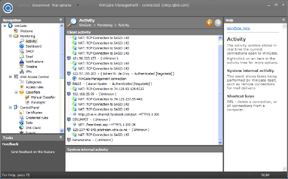 Easy Internet Sharing
WinGate will share most types of Internet connections effortlessly, allowing multiple users to simultaneously surf the web, retrieve their email, or chat with online messaging, as if they were directly connected to the Internet. Whether it is a simple dialup modem or hi tech broadband solution, WinGate can help to make the most out of the connection. WinGate will handle requests from a wide variety of Web applications and Internet protocols, such as Web browsers, Messaging software, FTP and SSL. WinGate also supports DirectPlay Internet games and Real Time Streaming Audio/Video.
Control Internet Access
With WinGate's user database and policies, parents and administrators alike can limit and control users access to the web. Logging, auditing, and a real time activity and history viewer - detailed records of user activities can be easily examined. This makes WinGate an ideal choice for Internet cafes and network administrators who work in environments where Internet access needs to be monitored closely.

Built-in Security
WinGate comes complete with a built in firewall to ensure that each Internet connection is kept safe from attacks by hackers and intruders from the Internet. Your network safety can be further enhanced with optional plug-in components, available seperately, which will scan incoming data for viruses, or filter out inappropriate content. This gives peace of mind to both parents and network administrators, so that you can be sure that your family or co-workers are using the Internet appropriately. Read how WinGate has helped some of the 600,000 + registered users to make the most out of their Internet connection.
Download WinGate now!
WinGate v6 has three different types of license: Standard, Professional and Enterprise. There are different features included in each of these different license types. Furthermore, since it is possible to activate a previous-version WinGate license with WinGate v6, it is possible that some installations may have further limitations on functionality. Finally, some features are only available on certain operating systems.

The table below indicates the minimum license and OS you would require for access to a certain feature. All other features are available in all versions and types of WinGate license. Where no OS is specified, the feature is available on all Windows operating systems.
| Function | Ver | Std | Pro | Ent |
| --- | --- | --- | --- | --- |
| ENS (including firewall and NAT) | 4 | | | |
| WinGate mail server (basic) | 5 | | | |
| Firewall black hole list | 5 | | | |
| IMAP 4 Server | 6 | | | |
| WinGate mail server (pop3 collection and queue management) | 6 | | | |
| Remote GateKeeper access | 4 | | | |
| Telnet proxy command shell | 4 | | | |
| Remote database / Domain controller or Active directory access | 5 | | | |
| Remote command shell (cmd.exe through GateKeeper) | 6 | | | |
| WWW Proxy support for NTLM authentication | 6 | | | |
| Bandwidth control | 6 | | | |
| DMZ | 6 | | | |
| WinGate VPN | 6 | | | |
| Centralised configuration in Winsock Redirector service | 6 | | | |
| Multi-user IP (Terminal services / Citrix) support | 6 | | | |
| Advanced service SSL binding support (SSL per binding policy) | 6 | | | |
| ARP responder | 6 | | | |

WinGate VPN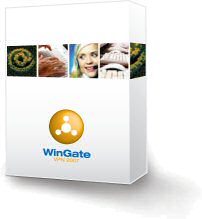 Ever caught yourself working late at the office thinking "if only I could access my work machine from home I would be there now?" Ever been on the road with your laptop wishing you could access company files, even print out documents on your company printer? Do you have a need to securely transfer files from one place to another, without people having to learn how to use complex file transfer applications?

If you answered yes to any of the above questions, you could be in need of a Virtual Private Networking (VPN) solution. VPN solutions have been available for some time, but up until now, you had to be a networking genius to make it work.
Now there is a VPN solution that anyone can use.
When we were designing WinGate VPN, we looked around at a number of other products. Most were very difficult even for us to set up, let alone someone who isn't a network expert. We decided that most of the configuration of a VPN shouldn't have to be such a burden, and should be done automatically. Most people just want the thing to actually work, and be able to trust it. Yet they don't want to sacrifice flexibility or features either.

In a very short space of time, WinGate VPN allows you to connect your networks together, whether they be office LANs, or a home PC, or a laptop on a modem, so they can share data safely and securely. Using state of the art security protocols and tunnelling technologies, WinGate VPN will make sure that you can participate in a remote network, almost as easily as if you were plugged into the same hub. Depending on individual set up, users can access common local area networking features such as file and directory exploring, mapping drives and even participation in LAN games.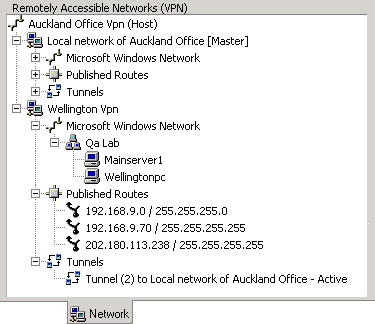 Easy to set up
Whether you are running WinGate VPN as a stand-alone system, or integrated with an existing WinGate installation, WinGate VPN is one of the most easily configured virtual private networking products available today. Set up in a matter of minutes, WinGate VPN can utilize most Internet connection types such as modems, wireless, ISDN or ADSL to create a secure private networking environment across the Internet. It will even work through your corporate firewall or NAT/DSL router or both!
Built-in Firewall
Since you will be connected to the Internet, WinGate VPN also comes with a built-in firewall to protect each end-point of the VPN. WinGate VPN also comes complete with real time monitoring, showing details of all VPN connections that are in progress, and the current status of the VPN tunnels. With a point and click style Network window, administrators have total control over each part of the communication process, and can easily check that the VPN is operating properly at a moments notice.
Extra support for MS Networking
WinGate VPN makes it easier to browse using network neighbourhood across your VPN without having to set up and configure expensive MS server platforms or WINS servers. UDP relay broadcasting makes all your networks look like they are on the same physical network segment.
Industrial-Strength Security
WinGate VPN uses industry-standard and trusted SSL connections and X.509 certificates to connect and validate your VPN users. It uses 128 bit Twofish-encrypted data tunnels to provide the security and speed you want. With various licensing options for different networking structures WinGate offers the flexibility you require.


WinGate VPN is ideal for:
Companies who need secure inter-office networking.
Home users who wish to set up a secure peer-to-peer connection between remote PCs.
Home or Mobile workers, who require a secure environment to connect to the office from remote locations.

PureSight
Administrators and parents are often faced with the task of protecting workers or family members from inappropriate web content.

Parents are increasingly concerned with the amount of explicit sexually-related material that can be found almost anywhere on the Internet, and employers are worried about workers access to non-work-related sites.

PureSight for WinGate is a content classification system. It plugs into WinGate's WWW proxy to gain access to web data being downloaded. Using a licensed artificial intelligence technology from PureSight Inc, PureSight for WinGate gives parents and administrators the ability to block sites based on site category.

PureSight for WinGate is ideal for:
Network administrators tasked with controlling workers Internet use.
Concerned parents who wish to manage the web content their family may access

Kaspersky AntiVirus for WinGate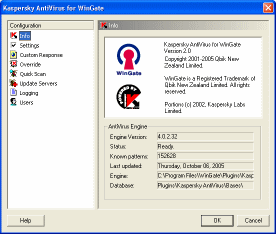 One of the greatest threats facing Internet users today is the risk of having their systems compromised by a virus. Whether it be a hidden Trojan that grants remote attackers access to your systems, or a simple virus that can play havoc with data and applications on a user's workstation, the threat of viruses can no longer be ignored by anyone wanting to access the Internet.

If you are using WinGate as your Internet gateway, your virus worries can be laid to rest. WinGate has support for various optional Antivirus plugins, including market leading antivirus experts Kaspersky Labs.

With WinGate controlling all data coming from the Internet to your network, it can be set to scan specific data streams for viruses or other types of malicious data. This includes any mail or attachments that are delivered through WinGate's mail server, files downloaded through FTP, or even web page content that users are viewing.

With WinGate's built in Quarantine, administrators are able to safely contain and isolate a captured virus, ensuring the safety of the network from a virus outbreak. With the quarantine viewer they can easily see all details of the infection, such as the type of virus, the source of the infection (including the user responsible), and what type of activity they were performing when the virus was encountered.

Using WinGate plus Kaspersky AntiVirus for WinGate provides a powerful yet uncomplicated centrally-managed solution for keeping your entire computer network free from virus infections.

NetPatrol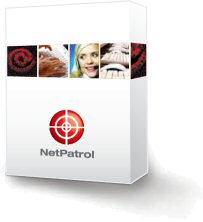 Hack attempts and other attacks from the Internet are becoming increasingly complex and better-concealed. As a result many common firewall solutions are simply not sophisticated enough to detect them. Realising the need for a packet-level network traffic monitoring system that can detect these types of malicious activities, Qbik embarked on a development effort to provide a tool for network administrators aimed at just this need. Qbik is now proud to provide its solution - called NetPatrol.
Intrusion detection system
From the experience gained with WinGate - Qbik's comprehensive proxy server solution, Qbik realised that a logical and necessary complement would be an intrusion detection system that could monitor, analyse and report on suspicious network and Internet traffic behaviour to and from the WinGate Internet server. Currently NetPatrol operates as a stand alone monitoring system, providing relevant traffic information, and raising alerts about suspected network intrusions or attacks.
Monitor a single machine or an entire network
NetPatrol can be set to monitor all network connections on the machine on which it is installed, and provide a detailed report on network data that is addressed to those interfaces. Or it can be set to "promiscuous mode" where it will monitor all network traffic on all the ethernet segments that the NetPatrol machine is connected to.

With a "danger level" monitor, NetPatrol will attempt to gauge the behaviour and severity of the data activity, and respond accordingly. It can be configured to handle certain types of network behaviours based on a set of rules that administrators are able to configure depending on their security reporting requirements.
Scalable Modular system
NetPatrol is built on top of installable modules, with certain tasks assigned to each. Because of this, NetPatrol can be used as a distributed IDS system, allowing for higher performance and better ratio of handled/lost packets on highly-loaded networks.
Session reconstruction and investigation tools
All IP Traffic can be logged and sessions reconstructed. A graph of attacks level indicates current threat level. From the main display, Source or Destination computers can be investigated.
Port Monitor tool allows you to see what your applications are doing
Also included is the Qbik PortList tool, allowing easy real-time monitoring of all connections to and from the local machine and the processes responsible. Connections and processes can be easily terminated from the main screen. Even system services can be terminated.