QBIK WinGate 8
Welcome to Qbik, the original home of WinGate software
Founded in 1995, Qbik is a privately owned software development company specialising in Internet connectivity and security. Qbik has a range of software products allowing users to manage their Internet connectivity (WinGate), connect remote offices together (WinGate VPN), and combat network security issues (NetPatrol).
When it was first released in October 1995, WinGate was the world's first Internet connection sharing proxy solution for MS Windows, allowing users simultaneous access to the Internet over a single connection. Since then WinGate has evolved into a sophisticated yet easy-to-use Internet connectivity management suite.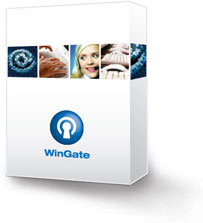 WinGate Proxy Server
WinGate is a sophisticated integrated Internet gateway and communications server designed to meet the control, security and communications needs of today's businesses. In addition to a comprehensive range of features, WinGate Proxy Server's license options provide you the flexibility to match your needs to your budget, whether you need to manage an enterprise, small business, or home network.
Key Functions
WinGate Proxy Server allows you to:
Provide secure and managed Internet access for your entire network via a single or multiple shared internet connections
Enforce advanced and flexible access-control and acceptable use policies
Monitor usage in real time, and maintain per-user and per-service audit logs.
Stop viruses, spam and inappropriate content from entering your network
Provide comprehensive internet and intranet email services.
Protect your servers from internal or external threats.
Improve network performance and responsiveness with web and DNS caching
Ease administration burdens on your internal networks.
Key Benefits
Using WinGate Proxy Server to actively manage the use of your Internet and network resources can provide many benefits, including:
Improved Employee productivity through reduced time wastage
Reduced time and resources required to maintain network integrity
Reduced Employer liabilities
Improved efficiency, responsiveness and reliability of network access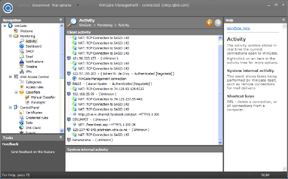 Internet Sharing
WinGate Proxy Server will share most types of Internet connection, allowing multiple users to simultaneously surf the web, retrieve their email, or use other internet programs, as if they were directly connected to the Internet. Whether it is a simple dialup modem or high speed fibre, WinGate Proxy Server can help to make the most out of the connection. WinGate Proxy Server supports a wide variety of Internet protocols, allowing applications such as Web browsers, messaging software, FTP and SSL. WinGate Proxy Server also supports DirectPlay Internet games and Real Time Streaming Audio/Video.
Control Internet Access
With WinGate Proxy Server's user database and policies, administrators can limit and control user access to the Internet. With logging, auditing, and a real time activity and history viewer, detailed records of user activities can be easily examined. This makes WinGate Proxy Server ideal for companies, schools, Internet cafes or any environment where Internet access needs to be monitored closely.
Built-in Security
WinGate Proxy Server comes with a built-in packet-inspecting firewall. Your network safety can be further enhanced with optional plug-in components, available seperately, which will scan incoming data for viruses, or filter out inappropriate content in web traffic. Read how WinGate Proxy Server has helped some of the 750,000 + registered customers to make the most of their Internet connection.
License types
There are three types of WinGate license: Standard, Professional and Enterprise. Different types of license enable different features, or have other restrictions.
All WinGate licenses have the following core features. License-specific restrictions or additional features are listed further down the page.
Core features:
HTTP Proxy Server advanced HTTP 1.1 compatible proxy server, installable filters, advanced policy support, extensible W3C compatible usage logs. Supports NTLM and HTTP Basic authentication, as well as other methods as available in the selected user database.
HTTP cache provides caching for requests made via a WinGate HTTP proxy. Caching saves Internet bandwidth and provides a faster browsing experience by serving requests from disk whenever possible instead of retrieving it from the web server again.
The HTTP Cache has been designed to be HTTP/1.1 compliant. It supports negotiated content, expiry and ageing, revalidation and content encoding and partial (Range) requests.
Email Services SMTP services (reception and delivery), POP3 server, IMAP4 server, POP3 collection service. Host your own user mailboxes with quota restrictions. Receive mail directly from the internet with SMTP, and/or retrieve mail from your ISP with the POP3 collection service. Advanced message routing, policy control and authentication gives you flexibility and access control. SMTP protocol-level plug-in filtering framework allows optional antivirus and content scanning.
Firewall / NAT if installed, WinGate's network driver provides stateful firewall control, black-listing, and Network Address Translation (NAT). Supports intercepting connections to proxies.
DHCP and DNS services simplify administration of your network TCP/IP configuration with WinGate's zero-config fully automatic DHCP service. The DNS service coupled with WinGate's advanced DNS client supports Active Directory and local domains. DNS caching speeds DNS resolution for your network.
SOCKS Server supports SOCKS4 and 5, allowing a multitude of client applications to access the internet. Supports SOCKS authentication, and policy control, including overriding destination.
Other services POP3, FTP, RTSP, SOCKS4 and 5, generic mapping for TCP and UDP, and proprietary Winsock Redirector Service used by WinGate client software.
WinGate client if installed on client computers, provides automatic redirection through the proxy using the Winsock Redirector Service. Supports failover, application load control (can terminate applications you don't want to run), and authenticates users with WinGate..
Remote WinGate Management lets you access and manage your WinGate installation from anywhere securely. Works much faster over slow connections than remote desktop.
User management. Use local Windows user accounts and groups, or manage your own users and groups in WinGate independently of the OS. Professional and Enterprise licenses also allow WinGate to use Active Directory users and groups.
Policy provides an extremely powerful graphical framework (flow-chart) to respond to any event in WinGate. Used for access control, conditional processing of requests, processing scheduled events.
Data system. Provides counters, switches and lists which can be used by WinGate components (usually policy). Also provides monitoring services for data, which makes counters visible on the dashboard,
Dashboards provide intuitive interfaces to monitor and control WinGate. Assign buttons to tasks or options in WinGate. Monitor the state of WinGate internal metrics. Number of dashboards is license-restricted.
Scheduler provides scheduled triggering of user-defined events. Processing of these events can take any form, including running a program, or script, or even altering WinGate configuration.
Notification system. Define and manage notifications plans to respond to user-defined incidents. Report incidents in policy. Plans support escalation and stand-down events, allowing a flexible response to any incident.
Timelime records and displays a timeline of activity through WinGate. Scroll backwards in time to see who did what and when. Information is stored in an ODBC database, so can be reported on.
Standard features:
Dashboards: unlim
Notification plans: 1
Cache volumes: 1
Mailbox volumes: 1
Professional features:
Dashboards: unlim
Notification plans: 2
Cache volumes: 1
Mailbox volumes: 1
Active Directory support
W3C usage logging
Scripting support (Lua / JScript)
Use files in data lists
Bandwidth Control
DMZ
Enterprise features:
Dashboards: unlim
Notification plans: unlim
Cache volumes: unlim
Mailbox volumes: unlim
Active Directory support
W3C usage logging
Scripting support (Lua / JScript)
Use files in data lists
Bandwidth Control
DMZ
HTTP Cache rules
Multiple websites / reverse proxy
HTTPS inspection
VPN Gateway
Threshold checking in monitored data
Custom DHCP options
Web-based Administration
Remote shell
Performance counters
Advanced policy items
Advanced WinGate events
Advanced Schema objects
Advanced adapter settings
WinGate 8 release notes

Version 8.1.0 (Build 4655) Released 28 February 2014
Fix: POP3 Server: debug logging of POP3 commands could cause crash if command contained certain characters.
Fix: WWW proxy: issue with reverse proxy checking for path exploits effectively blocking access to back-end URLs containing certain character sequences
Fix: AD User Database: crash problem when authing to accounts where AD object is missing required fields. Now logs missing fields and fails auth.
Fix: Timeline: Deadlock could occur in some cases when multiple WinGate Management accessing Timeline using MDB or Database concurrency set to 1.
Fix: Manual classifier: was not honoring permission for modification of manual classifications.
Fix: SMTP Delivery: occasional crash due to race condition when timing out SMTP delivery sessions.
Fix: Web Admin: occasional crash when accessing email tab when using AD user database
Change: Timeline: changed default database to SQLite from MDB. MDB just not up to the task for medium - large sites.
Change: Web Activity: rules can now specify which proxies the rule applies to
Change: HTTP Cache: rules can now specify which proxies the rule applies to
Change: Dashboards: no longer limit number of dashboards by license.
Change: import/export utility: can now import configuration from command line.
Change: Data lists: selection dialog now shows current selection
Change: Code Signing Cert: new (updated) Qbik Code Signing cert used for WinGate modules.
---
Version 8.0.5 (Build 4634) Released 5 December 2013
Fix: HTTP proxy: malformed request reported when POST request challenged for authentication.
Fix: DNS client: crash relating to timing out delegated requests
Fix: Timeline: was not showing all activity blocks in some cases.
---
Version 8.0.4 (Build 4629) Released 4 November 2013
Fix: HTTP proxy: problem with tunneled requests (https) when processing pended data on closing connection.
Fix: Web Activity: fixed crash when trying to log database initialisation failure
Fix: Notifications: fixed WinGate Management crash when notifications occur with notifications panel not visible.
Fix: Timeline: Fix issue where UI would not update value of "enable activity tracking" properly
Change: Data monitoring: Added option to reset derived values
New: Configuration utility: Added utility to export / import configuration (handles 32/64 bit issues as well).
---
Version 8.0.3 (Build 4625) Released 18 October 2013
Fix: Mail delivery: problem with retrying if mail rejected temporarily after DATA command
Fix: Mail delivery: problem with bounce messages.
Fix: POP3 Server: buffer overflow vulnerability fixed.
Fix: SMTP Client: Fixed crash which occured if session was timed out whilst negotiating SSL connection with STARTTLS.
Fix: HTTP proxy: problem with SSL inspection if connecting through upstream proxy
Fix: DNS client: fixed problem for delegate requests to different domains.
Fix: Activity Screen: crash when right-clicking user icon on multiple user machine.
Change: Licensing: connections to SMTP server no longer consume a license
Change: Schema: Added InRange member function to IP Address object
---
Version 8.0.2 (Build 4614) Released 23 September 2013
Fix: WWW proxy: problem with chunked POST requests.
Fix: WWW proxy: problem with FTP URLs.
Fix: POP3 Proxy: crash problem when using Kaspersky AV for WinGate and client issues STLS command.
Fix: Updates Installer: Fixed issue with improper handling of silent installs in some upgrade scenarios
Fix: WINS service: crash when parsing NetBIOS broadcast packets containing no IP address records
Fix: SMTP Client and POP3 client: issue when talking to older servers that don't support TLS
Fix: VPN: problem exporting and importing VPN config files
Fix: Notifications: memory leak when closing an incident that wasn't currently open.
Fix: Dashboards: dialog resize bug in dialog for choosing data source for dashboard items.
---
Version 8.0.1 (Build 4608) Released 20 August 2013
Fix: HTTPS inspection: Crash when signer certificate created without encrypted private key
Fix: HTTPS inspection: Problem selecting correct signing certificate (due to sorting in combo box).
Fix: Timeline: Problem initialising timeline for some versions of MySQL ODBC driver
Fix: Timeline: Problem saving new config if database not initialised.
Fix: Timeline: problem in user interface causing WinGate Management to crash on exit.
Fix: FTP Proxy: Debug logging problem with server responses
Fix: Updates Installer: Updated to fixed WinGate 8 installer.
---
Version 8.0.0 (Build 4601) 31 July 2013
Web-related
New: HTTPS inspection support added (Enterprise licenses only)
New: HTTP cache: now uses in-memory / file-backed indexes - no more SQL. Result is much faster cache.
New: Web Access Control: added rule result of "re-authenticate". This can be used to force change of user.
New: Web Access control: added option to track different categories for same site separately or not
New: can now intercept port 443 to proxy (normal non-https binding). If SSL inspection is enabled, it can be inspected, else it is tunneled.
New: now reads mime types for file extensions from OS when serving.
Change: buffer handling, removing double-buffering resulting in much improved throughput
Change: now maintains connection to upstream proxy for SOCKS as well as Tunneled upstream connections.
Change: usage logs time taken now in milliseconds
Change: added option to disconnect in reject policy response
Fix: fixed issue with occasional site hangs, and broken images
Fix: Web serving: fixed problem improperly blocking URLs containing ':' character - affects reverse proxy as well.
Fix: Web proxy: X-Forwarded-For was not being added for upstream connections via proxy, even if selected
New: Web proxy: Added support for adding X-Forwarded-For for reverse proxy requests
Email services
New: Added support for client certificates and SASL EXTERNAL auth mechanism throughout services and clients.
New: Added support to check user database for incoming email addresses to see whether to accept mail or not. Allows integration with Active directory email addresses.
New: SMTP Delivery: can now override FQDN in known server
New: pushes a notification if a mailbox is over quota when delivering or accepting mail.
New: can now install multiple SMTP servers.
New: SMTP Server: Added option to require authentication.
New: SMTP Server: Added option to override default FQDN
Change: Now Checks volume access, writability etc etc. Useful for network shared volumes
Change: can now create volumes regardless of license. Whether you can use anything other than default volume is a matter of license. This allows you to create a new volume to migrate to without having an enterprise license.
Change: now checks storage type of mail volumes disallowing invalid media, such as CDROM or RAMDisk
Change: can now create a volume in a non-empty folder (which allows attaching a volume to a previous volume)
Change: SMTP Delivery: now supports MX which resolves to multiple A records.
Change: SMTP Server: extended schema of SMTP Session to allow setting of FQDN and whether to require auth in policy.
Change: SMTP delivery: no longer (invalidly) tries backup MX servers if a recipient is permanently rejected
Change: IMAP: now better handles temporarily unavailable mailboxes (e.g. those on network shares)
Fix: resolved some issues with migration of ORDB servers from WG6
Fix: fixed bug in POP3 Server when client using SSL / STLS in some cases session would hang
Fix: fixed bug in IMAP search when no search sequence specified.
Fix: Fixed bug saving mailbox settings.
Miscellaneous
New: TCP mapping proxy: supports client certificates on incoming and outbound connections
New: Certificates: can now import certificates from pfx file.
New: Certificates: WinGate-generated self-signed certs now add Basic constraints and subject Key ID, necessary for signing other certs.
New: Credential rules, now UI validates entering IP or MAC address - makes entering MAC addresses more lenient.
New: Activity: added expand / collapse all
New: Activity: pause activity updates now shuts off updates from server, thereby saving bandwidth.
New: WinGate NAT: Added Disconnect event
New: Notifications: added logging support. Now logs reports and events to file.
Change: changed development environment to MS Visual Studio 2010
Change: AD Connector: now control cache lifetime of objects retrieved from active directory. Objects will now be re-fetched after 1min, to reflect changes in account settings etc.
Change: AD Connector: now displays email address of users and groups.
Change: AD Connector: better handling if AD controller is unavailable when WinGate starts (reports errors to UI, retries initialisation).
Change: DNS Client: Can now specify order of servers.
Change: DNS Client: Changed deprecation strategy when servers unavailable, now just demote the server, rather than ceasing use of it altogether.
Change: Credential rules: Now check for conflicts when creating a new rule.
Change: SSL Support: updated OpenSSL to latest 0.9.8y version
Change: Post-mortem logging now uses DebugHelp.dll to create minidump files, rather than our old custom post mortem log files. These are also now generated always instead of off by default.
Change: Logging: changed log level for various informational events from debug to Info (e.g. proxy requests, and traffic). Means you no longer need to log all debug messages to get requests and traffic.
Change: Dashboards: now supports undo/redo and Save / Cancel for editing.
Change: Data lists: speed improvements to shared data list lookups used by Policy, and Manual classifier.
Fix: Credential rules, fixed locking issue on updating credential rules.
Fix: Timeline: now warns on MDB over size, and enforces auto-purging.
Fix: Timeline: now deals with temporary inaccessibility of database.
Fix: Data: fixed several locking issues
Fix: Engine startup: problem on some systems with disabled Ras Manager service where WinGate would crash on startup after reboot.
Fix: Lua Scripts: fixed issue when calling function with no parameters.
Fix: Policy: fixed problem with imported policies relating to 32 bit values imported as signed vs unsigned data.
Fix: AD UDB: issue where empty search results would return incorrect error to client code.
Fix: Web Activity: deadlock editing web access control rules while under load.
Fix: Timeline: fixed deadlock in timeline when using MDB and retrieving large datasets.
Fix: Network Driver: fixed deadlock when disabling / enabling USB-based adapters.
How do I get a free 30 day trial?
To obtain your free 30 day trial for WinGate, simply follow these steps
Download WinGate from here
Install it
When WinGate asks you to activate a license, click on OK button
by default, the activation software requests a trial, so click the next button
you should be done.
Who is eligible?
You may trial WinGate twice during any 6 month period.