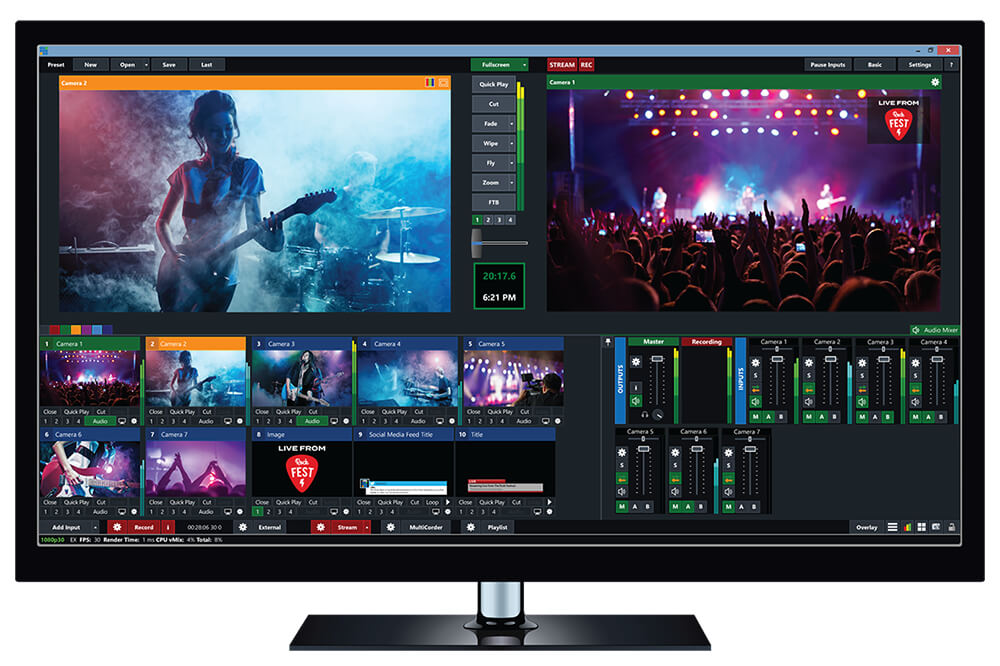 Instant Replay
vMix has always pushed the boundaries for what is possible in Instant Replay in a software switcher. In vMix 24 we've decided to take things up a notch or two! With vMix Pro you'll now be able to use 8 channels of Instant Replay utilising the vMix AVI codec for high quality recordings. That doubles your capabilities! In addition to this, vMix Replay will also support 4K and high frame rates, but keep in mind that these will take sufficient computing power to use! There have also been some productivity enhancements including-
Two output playback channels that can be controlled independently or in sync and have any camera angle assigned to each.
Twenty (20) Events lists are available that can each include an unlimited number of Mark In and Mark Out points that can be added on the fly and changed at any time.
Dedicated Replay MultiView output with two playback channels alongside eight live camera previews which can be optionally enabled.
Stingers
Alongside the new replay channels you can now add up to 4 stingers in vMix. You can use the in-built GT Title Stinger templates or create your own!
Red Alert!
Sick of going to air and not having anyone hear/see you? New alerts will notify you if your volume drops below a certain level or if you have FTB enabled. Have anything else you'd like to be alerted about? Let us know!
The latest version of NDI®
vMix 24 will have NDI 4.6, with all the amazing capabilities that come along with it! This will mark almost 5 years of NDI support in vMix. Yes, 5 years!
Forgot your glasses?
Use the new search functionality in the vMix interface to find any inputs you need quickly! You can also now search vMix Shortcuts to easily narrow down your function.
Everything is FEIM
In an industry first, vMix has added a Faulty Encoder Input Mode for NDI® sources. This will allow users to isolate NDI encoder inputs and prevent impact from device crashes. This mode will increase CPU and memory usage, so it will not allow as many NDI inputs but here's hoping you don't have to use it!
And finally the latest browser
vMix 24 has v86 of the Chrome browser available as an input.
Try vMix for freeeeee!
For a Free 60-Day Trial of vMix Pro, just head to the download page on vMix.com. You just need to download, install and enter your email address where it says Register for a fully functional 60 day trial.
vMix 24 will be a free update for those that have purchased after January 1st 2018 or if you've purchased a 12 month upgrade…in the last 12 months.