Stellar Data Recovery is one of the best data recovery service providers in data recovery industry in India and it provides a wide range of data recovery services & solutions. The organization was established in 1993. The corporate office is at Gurgaon and also has one of the world's most advanced technological lab for advance data recovery from all instances of physical damages.

Stellar has established itself as a market leader in terms of delivering absolutely risk-free recovery to more than 2 million satisfied clients across the globe, with its proprietary data recovery service techniques, Skilled data recovery experts, In-house R&D team and state-of-the-art infrastructure of CLASS 100 CLEAN ROOM labs.

Stellar recovers data from any instance of data loss – be it virus attack, accidental deletion, RAID failure or any system crash due to hardware/software malfunction with its expertise in File Recovery, Email Recovery, Hard Drive Recovery, Server Recovery, SSD Recovery, RAID Recovery (all configurations) etc.

Stellar expertise a vast range of data recovery, protection, backup and safe data eraser software to offer its customers the best data disaster solution. Their data recovery services and software supports all major operating systems including UNIX, Windows, LINUX, Novell and Macintosh.
Stellar BitRaser for File
Permanently Erases Files, System Traces, Internet Activities & Drives
BitRaser for File is capable of erasing files, folders, Application traces, system traces, internet activities as well as volumes from Windows based systems without leaving any scope for recovery. With this tool, all the crucial information stored on the hard drive in the form of files and folders can be erased permanently.
Erases files & folders permanently beyond the scope of recovery
Erases installed Applications' traces, system & internet activity traces
Option to schedule file eraser tasks at a predefined date and time
Option to erase data files with a single right-click
Offers 17 different advanced and standard algorithms for file eraser
Generates erase certificates when the files are erased after searching
Support for Windows 10, 8.1, 8, 7, Vista, XP and Windows server 2012, 2008, 2003
Key Features
Cleans Data from Email Tools
When you are using Email clients on the desktop, a lot of crucial and confidential information is stored on your system. Accessing desktop and web email clients leaves a lot of important crucial information behind. Through standard data erase algorithms, all these traces of data stored in saved login and password, mail filter, offline emails etc. can be permanently removed using the BitRaser file erasure software. It supports email clients such as Eudora, Mozilla Thunderbird and IncrediMail, to name a few.
Erases traces of Internet Activities
This file eraser software comes integrated with strong algorithms that can erase data permanently leaving no scope for recovery. With this software, you can as well erase the traces of your internet activities that are stored on the hard disk. Thus protecting your confidential information such as bank account details, online accounts credentials, payment details, important passcodes and access codes from falling in wrong hands.
Erases Peer to Peer Tools
Accessing Peer to Peer apps leaving behind a heap of residual data. This tool can efficiently remove all such information from the system permanently beyond the scope of recovery. Various supported Peer to Peer apps are BitSpirit, BitComet, MP3Rocket, Ares, Imesh, BearShare, SoulSeak, uTorrent, FrontWire, etc.
Erases Data Permanently
The File eraser tool allows you to erase data such as files, folders and selected volumes from the Windows compatible hard drives. You need to download, install and launch the software, and follow the procedure to successfully erase the files, application and system traces, volumes and your browsing history.
Additional Advantages
Erases Traces from MS Apps
This file erase software helps in erasing the traces of data from Microsoft applications such as Windows Explorer, WordPad, Windows Media Player, Management Console, Clip Organizer, Paint and Access Snapshot Viewer, to name a few.
Multiple Erasure Algorithms
BitRaser for File supports 17 International erasure standards, which can be selected by you as per your requirement. Each of these are capable of erasing data beyond the scope of recovery.
Removes App Traces
While erasing the data from hard drive, BitRaser for File combines an array of applications and creates a group to make the erase operation easier. These application groups can then be selected to remove all the traces of extraneous files. The standard algorithms securely erase files which helps in optimizing system performance.
Removes Chat Messages
Chat Messengers are used worldwide for professional and personal communication. These applications store the data in the chat history, which can be retrieved later. Hence, to avert the risk of confidential information falling in wrong hands, BitRaser for file is capable of erasing data from all popular chat messengers such as Yahoo and Skype, to name a few.
Windows Compatible
This software is capable of erasing data from Windows compatible machines and data storage drives such as PCs, laptops, USB flash drives, external storage devices, RAID drives and Servers. It is efficient enough to handle drives with large data storage capacity and can erase file from Server architectures.
Modified Protection
This software comes with the password protection feature. The password protection will prevent other users from accessing the BitRaser for File. You can attain extended security by setting and providing an alphanumeric passcode. The assigned password can be changed or modified anytime later.
Search Module Available
The BitRaser for file eraser software is powered by advanced features, which allows you to search files you want to erase, by their respective names. This makes the file erase operation efficient as the user can straight away find the intended file or folder just by providing the keywords in search box. You can then erase data using any of the given 17 erasure algorithms.
Generate Task Certificate
This software has the option to generate certificate when the file is erased after searching. The software generates a tamper-proof certificate after completion of the erasure process, which you can save in PDF file format for future references.
System Requirement
Processor: Pentium Class
Operating System: Supports Windows 10, 8.1, 8, 7, Vista, XP & Server 2012, 2008 & 2003
Memory: 256 MB Minimum
Hard Disk: 40 MB of Free Space
Software Delivery: Electronic
License: Single User License, can use only on a single system
Interface: Available Language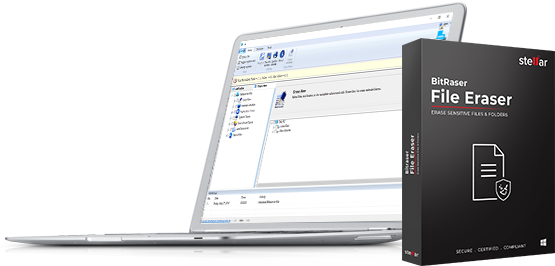 Try BitRaser for File to permanently erases files,
system traces, internet activities Free Trial

| | | |
| --- | --- | --- |
| | | Stellar Phoenix & Stellar Data Recovery are Registered Trademarks of Stellar Information Technology Pvt. Ltd. © Copyright 2018 Stellar Information Technology Pvt. Ltd. All Trademarks Acknowledged |