Visual Integrity was founded in 1993 to develop solutions to bridge incompatibilities between applications on UNIX and Windows. Our first customers were technical writers who needed to use drawings designed by engineers in proprietary UNIX systems in their Windows-based publishing systems.

We knew were off to a good start when we earned the confidence of our first customers - AT&T, Ericsson, Abbott Laboratories, the European Space Agency and Texas Instruments. We've been on a roll ever since. Now our product line includes indispensable add-ons for Microsoft Office users as well as high-powered enterprise developer tools and specialized programs for engineers and scientists.

We give the credit for our success back to our customers and prospects who have helped us keep our heads out of the sand and have driven most of the improvements to our core technology over the years. As you have needed new capabilities, we have extended the engine to more than handle them. Because our software evolves based on what you need, it always delivers a solid and current foundation for end-users and developers alike. On top of all this great feedback, we add in some pretty good ideas of our own as well.
Visual Integrity is still actively managed by its two co-founders, Jan Homan and Jean Haney. Both have 25 years of experience in the software industry. With pioneering vision and strong product instincts, together the founders have ensured that Visual Integrity's products have been in step with major market developments, trends and paradigm shifts while striving to make practical products with exceptional value for end-users and developers alike.
With successful years behind us, as we head into a new decade, we rededicate ourselves to you. We hope to continue to be a pleasant surprise in the software world - the company who reacts to your requests with unexpected responsiveness or with useful information to help you make a decision. We appreciate your trust and will continue to earn it.
pdf2cad
Convert PDF to DWG and DXF
Open and Modify PDF Files in CAD Programs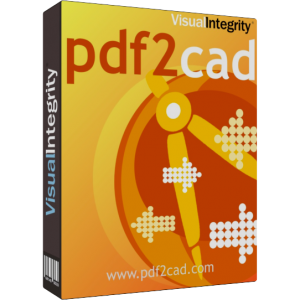 pdf2cad has been the top PDF to CAD Converter for more than 25 years. pdf2cad transforms PDF files into editable CAD drawings. saving hours of redraw time. In seconds, you'll extract accurate DWG, DXF or HPGL drawings. Works with virtually any PDF drawing saved or printed from an application. Use the converted files in engineering, scientific and architectural programs including AutoCAD, TurboCAD and MicroStation.
pdf2cad is ideal for converting CAD drawings, floor-plans, network diagrams and organization charts. All entities, layers, line-types, objects and text are ready for editing. pdf2cad is not designed to convert scanned PDF drawings (raster PDF) into CAD formats. It requires computer-generated PDF files (vector PDF). To learn more, read The Difference Between Vector and Raster PDF Files
pdf2cad runs on Microsoft Windows and Apple MacOS. We also make dedicated plug-ins for AutoCAD and BricsCAD. Both of these programs will open a PDF file and present it for editing.
pdf2cad is available for Microsoft Windows or Apple Mac OS X.
Try pdf2cad free for 30 days! Choose your platform:

HUOM: Nyt pdf2cad-lisenssi -20% promohintaan 31.3.2020 asti!

What's New in pdf2cad v12
pdf2cad v12 is a major new release with improvements in many areas. A list of the highlights can be found below. If you have questions or need more detail on any of them, please email us or use the contact form. Review the list below to see what's new in pdf2cad v12.
The PDF to DWG, DXF and HPGL format specific features have all been strengthened. Already best-in-class, new options center around security and layers.
GENERAL
New automatic Horizontal and Vertical Flip options when converting PDF drawing.
PDF to CAD rotate drawing
DWG support for merging all pages in a Multipage PDF file to one drawing. Pages can also be Horizontally or Vertically aligned.
Merge multiple PDF into one CAD drawing
DWG support for password protected PDF files.
Convert PDF to CAD password protected files
FORMATS
Added transparency fill support DXF/DWG format.
PDF to CAD transparency support
Scaling factor and support of Circle/Ellipse added to HPGL output.
TEXT OPTIONS
Automatic font name mapping engine This handles font-name mismatches so you never notice them. More about font handling
Support of condensed text functionality in DXF/DWG
LAYERING
PDF layers selection option to convert
Convert objects of each PDF layer to a separate file.
OBJECT HANDLING
More advanced options for handling image objects. If a file contains a lot of small images, they can be ignored in order to make editing easier and file size smaller.
Z-ORDER
Z-Order refers to the order of overlapping objects. The order in the PDF file is the default. You can place images at the back or reversed at the back of the drawing. This is useful when PDF images are transparent since IMAGE objects in DWG or DXF are opaque.
CONVERT IMAGES TO COLORED LINES
DWG and DXF don't support image cropping. Using this option is useful with small cropped images. It converts them to color lines and crops them that way.
LINES TO POLY-OBJECTS
Option to convert connected LINE objects to one
POLYOBJECT
What's New with pdf2cad v12 System Requirements
64-bit only; 32-bit version retired with v11
Supports latest operating system releases including Windows 10.0 and Mac OS X Catalina
PDF 2.0 support
Advanced Features in pdf2cad
Compound Grouping
Advanced logic groups elements that belong together. These compound objects can be easily selected, moved, copied, and edited.
Advanced Layers
CAD files have many ways of looking at layers. Convert PDF to layers based on line weight, color, spot color, PDF layers or no layers. Combinations of color and line weight are also possible.
Intelligent Text
pdf2cad extracts all searchable text and renders it in editable words and text strings.. Missing or mis-matched fonts are automatically mapped or substituted for the best WYSIWG display.
Object Recognition
pdf2cad intuitively reconnects individual elements to form shapes. A series of arcs becomes an ellipse and a set of lines a polygon.
CAD Format Options
pdf2cad generates DWG, DXF and HPGL. Virtually all CAD/CAM and technical drawing programs open at least one of these formats.
API & Commend Line
All the power of pdf2cad is available through in the PDF Conversion SDK and Command-Line Server. Perfect for developers, systems integrators and OEMs.
More Features in pdf2cad
Best-selling PDF to DWG, DXF and HPGL Converter for 26+ Years
Convert PDF files into standard CAD formats, DWG, DXF and HPGL
Convert one file or multiple files using the built in batch mode
No limit on PDF size
Works with any CAD/CAM system or technical application with DWG, DXF or HPGL import
Scaling based on PDF coordinates ensures precision
DWG support independent of AutoCAD eliminates TrustedDWG errors and performance hits
Convert all pages or specify a page range
Intelligent object recognition
Combines characters to form editable words and lines of text
Cropping
Add white space to page
Rotate output by any degree
Option to ignore text, images or paths during conversion
Map fonts for high fidelity file match
Scale page to match original dimensions of file
Specify minimum line width
Separates layers in CAD drawing based on PDF layers, color or other definitions
Dashed/dotted lines as segments
Saves all images as referenced file in DXF format
Command-line version and Windows DLL available for developers
Expanded support for non-standard fonts
Option to remove or outline hatches/fills
Improved reporting on errors and warnings
Streamlined interface for faster and easier conversions